Who am I?
My name is Benoit Louvigny,
and here's my story as a passionate chocolate maker…
This blog is dedicated to chocolate and chocolate making… But who am I to talk about it? Let me introduce myself: my name is Benoit Louvigny, I am French chocolate maker and I have a true passion for chocolate. I currently live in Luxembourg and I would like to tell you why I decided to create this blog about chocolate. (link to the about page)
Today, I would like to talk about my story and my career in the world of chocolate and the sweet trades. As a chocolate enthusiast and professional, I think I can address a topic that is very dear to me with all the facts.
Five years of training in a hotel school
I originally come from Angers and I started my training in cooking at the Hotel School of Saumur in 1992. I was only 14 years old at the time. I spent five years there, during which I trained as a chef.
A passion for cooking
Where does my passion come from? I like to use my hands to create things, transform ingredients, create dishes, discover new flavors… I take pleasure in touching food, but also in working with it and sublimating it through recipes. I love good food, and I enjoy sharing this passion with those around me.
The next aspect is tasting. Using one's know-how to delight others and share good meals. For me, cooking always involves pleasure, sharing and wonder. I believe my mother passed this on to me. It's not very original, I admit, but our mothers' and grandmothers' cooking is often what pushes us on this path. In my family, we were taught to "eat well*, … Cooking is a very strong link that unites men and women around the world, even if we are not always aware of it.
Discovering the professional world
I also learned about business at the hotel school. Our cooking teachers were excellent cooks, but also great business managers and leaders. It was really rewarding to learn from them and to improve through their guidance. I consider myself lucky to have learned so much during my training at this school.
My last year of studies was rewarded with a CAP (vocational training certificate) in pastry and chocolate making. Meeting my teacher, Mr. Joël Moreau, elected Best Bakery Worker in France, really changed my life. Something clicked in me for something sweet. In pastry making, everything is precise, framed, weighed, worked on, structured… There is a lot of chemistry in food! There is less improvisation and more technique involved. I loved it, so I decided to pursue this path: working in the field of sweets.
My beginnings in Paris
I went to Saint-Tropez for a season when I started working. I worked there as a pastry chef at the Bastide de Saint-Tropez, a Michelin starred establishment. I learned a lot there before going back to Paris to work with chef Michel Del Burgo at the Bristol, as a second rotating commis. I didn't stay there long, because this position involved little pastry work.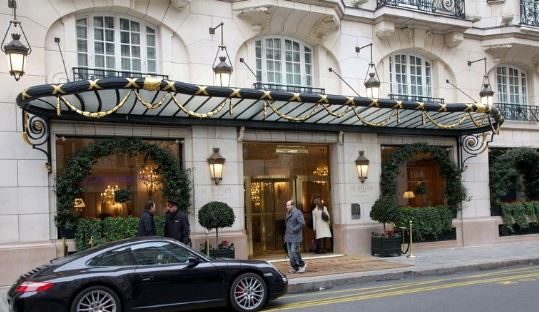 I then worked at Le Meurice, with Marc Marchand as head chef and James Berthier as pastry chef. I then held the position of demi-chef de partie in pastry. This professional experience was one of the most important ones in my career. I learned a lot from these experts, and I acquired a new perspective on pastry making. This was in 1997, and I was barely 18 years old at the time. I was already convinced that I had found my way.
After that, I came back to Saumur, in my home area. I completed my Master's degree in pastry and chocolate making in a bakery in Saumur, as part of a qualification contract. Thanks to this training, I was able to access the chocolate making trade, and I had the opportunity to work with chocolate, a raw material that was beginning to fascinate me.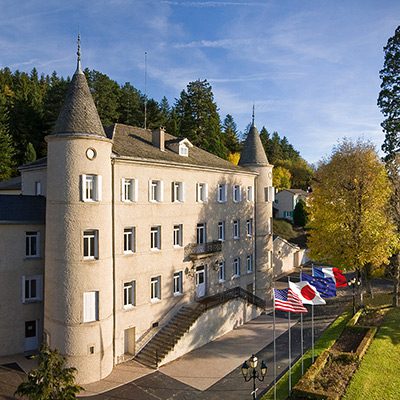 My experiences in famous chocolate houses
After my studies, I went to work in Grenoble, at André Rosset, who was elected Meilleur Ouvrier de France as a chocolatier. At that time, I was already dreaming of becoming Meilleur Ouvrier de France chocolatier. It became a strong motivation for me. Working alongside this great chef helped me discover the technical aspects of chocolate making and the discipline it demands. My passion was born from my contact with a man of integrity and professional integrity. I then worked with Patrick Chevallot, elected Best Pastry Chef in France, in Val d'Isère. I was a pastry chef at the time, and this experience in the mountains was both enriching and tough.
A turning point in my career as a chocolate maker
During my career, I got a Research and Development position at Pierre Marcolini, a Belgian chocolate maker. It was a rich and exceptional experience. Despite his somewhat unique personality, I was able to create my own recipe balancing charts for chocolate, confectionery and pastry.
I finally became a trainer at the École Nationale Supérieur de la Pâtisserie (ENSP), located in Yssingeaux. I attended training courses, gave demonstrations abroad (Russia, South Korea, Japan) and gave presentations in companies. I spent two years at the Château Montbarnier (an ENSP partner) where I gave courses in chocolate and pastry making. Over time, I developed a particular affinity with chocolate. It is delicate and demanding at the same time, powerful and suave, textured… In nature, chocolate takes on unique shapes. My relationship with chocolate continues to grow and has developed into a great passion. A passion that finally led to a major decision: the creation of my own chocolate factory.
Creating my chocolate shop
I decided to move closer to home to open a store with my wife. For some time, I worked as a pastry chef at the Château Colbert, which is located not far from Cholet.
The professional experiences I gathered throughout France and the world allowed me to become a pastry chef, confectioner and chocolatier. All these jobs were very rewarding and I learned a lot from them. Despite the doubts, the mistakes… I don't regret anything and I only keep the positive! These experiences have made me what I am, both professionally and personally. I didn't want to stop there, so I decided to go further.
An artisanal chocolate factory in Angers
In 2008, my wife and I created our own artisanal chocolate factory in Angers. It was an opportunity for me to work as a chocolatier and to live from my true passion: chocolate. Our chocolate factory was very successful, allowing me to create and reinvent my own recipes. I was able to develop my own style, my own taste and my own aesthetics. Our clients showed a lot of appreciation for our chocolate and confectionery products. Some even told us that our place should be in Paris, given the high level of quality of our chocolate candies. For a chocolatier, the freedom to create is the most important and exciting thing. I took advantage of this experience to refine my style, to create, to have fun and to enjoy a trade that I feel passionate about.
In 2015, I became a member of the Tradition gourmande association, which aims to preserve the know-how of the sugar trades, of which my profession as a chocolatier is part. For me, it was a real pleasure to be part of these passionate people who work to preserve the know-how of artisanal trades such as ours.
Two years later, we were forced to close our store for personal reasons. My artisanal chocolate factory in Angers therefore had to close its doors for good in 2017.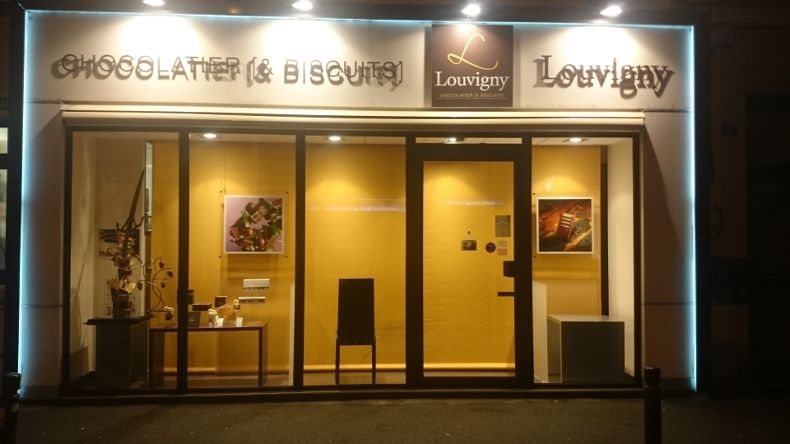 A new start for me as a chocolate maker
Closing our artisanal chocolate factory in Angers was a big turning point in my professional life. I greatly appreciated these years, where I could give free rein to my creativity. It only strengthened my interest in chocolate making and confectionery. I consider these 10 years as an artisan chocolatier as a tremendous training experience: …I learned many things at every stage, from technical chocolate making and confectionery, to packaging, marketing, customer relations, exporting, food marking, and legislation. Nevertheless, I remain a chocolatier and confectioner.
In 2018, one year after closing the chocolate factory, I joined the "Meilleurs Ouvriers de France " competition, in the chocolate and confectionery category. I qualified for the final in October 2018, and faced a major challenge. Once again, I met exceptional professionals in the chocolate-making industry. I had to push my limits in chocolate and confectionery techniques, organization, and research… I learned how to deal with the people around me and myself though this competitive challenge. This is what makes this contest unique. I didn't get the title that year. But it's not important, I had to accept it…take some distance, move on, bounce back, and learn…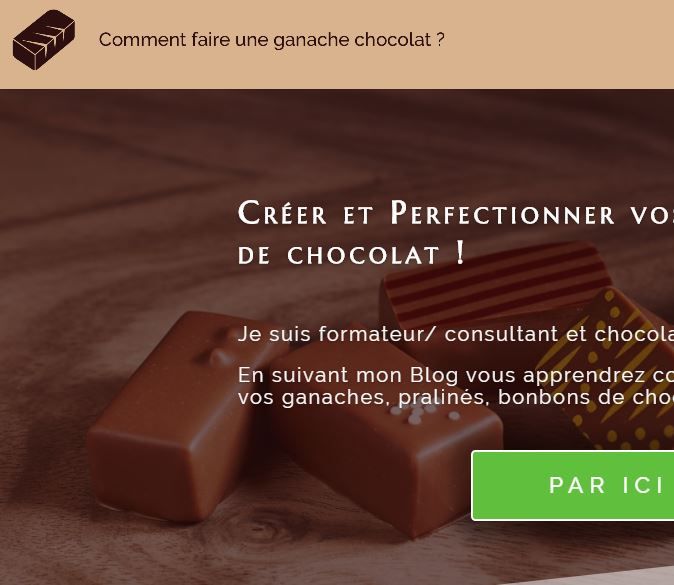 Shortly after, I moved to Luxembourg for family reasons. After a lot of thinking, I decided to give another direction to my career. This is why I chose to create a consulting company in Luxembourg, and I named it Louvigny Consulting. I am now an independent consultant, specialized in chocolate and confectionery. I provide consultancy services to companies and professionals regarding recipe balancing, product line development, chocolate and confectionery product design… I also give demonstrations and trainings in the field of chocolate.
In 2021, I finally decided to share my passion, my knowledge and my experiences with a larger community. For this purpose, I decided to create the blog "How to make a chocolate ganache?" It allows me to share my experience as a chocolate maker with other professionals and enthusiasts, but also with newcomers and chocolate lovers.